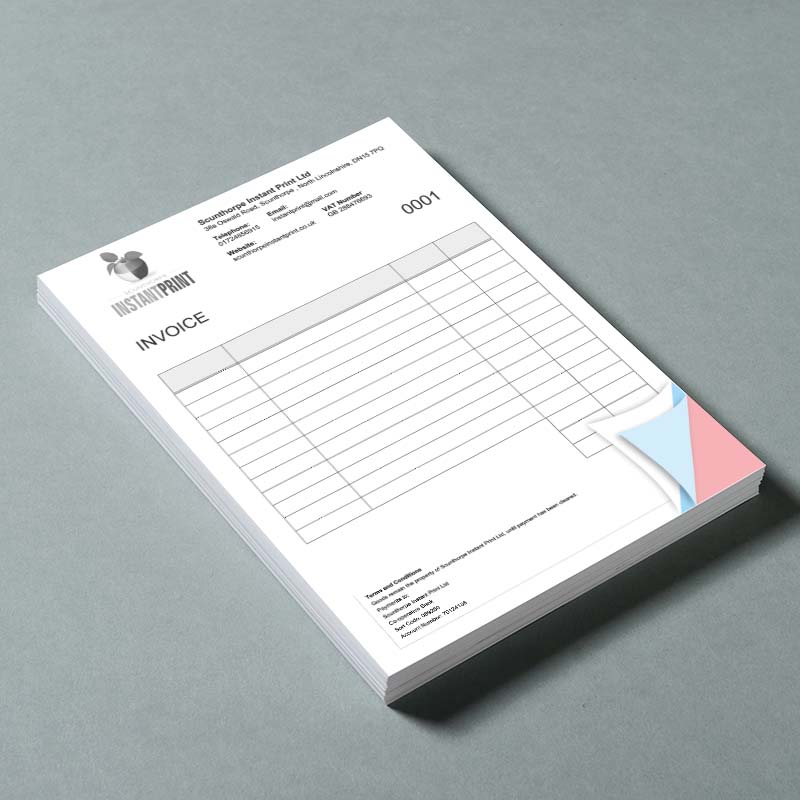 NCR Printing - No Carbon Required
We specialise in NCR Printing, No Carbon Required or Self Carbonating printing. We can produce sets, pads or books in various different sizes, printed in spot colours. Starting from a little as 100 sets or 2 pads/books. The prices on our website cover the most popular sizes but please send us a request if what you are looking for is not listed.
Shop NCR
Personal service - Professional results
We provide a complete range of printing services, encompassing a variety of media. Whatever the occasion or nature of the job, we'll be happy to provide a competitive quotation. Should you require any print services that are not listed here on our website, just ask!
We never work on a "one size fits all" approach and carefully customise our printing around your requirements. By building ongoing long-term relationships with our customers, we're better able to understand their needs and tailor our service accordingly.
For those urgent jobs that demand a tight turnaround, we'll always do our utmost to deliver on time. This is alongside our satisfaction guarantee refund policy.
Printing Services Lincolnshire
Printing Services in Lincolnshire and beyond
If you are looking for printing services in Lincolnshire and the beyond, Scunthorpe Instant Print is here to help. Established in 1976, we have almost forty-five years of experience in printing. Our print shop boasts the latest high-tech equipment alongside a friendly, approachable team who boast a wealth of experience. When it comes to printing services Lincolnshire here at Scunthorpe Instant Print, we have the knowledge and experience to help you, whatever your requirements.
Graphic Design Services
As well as our printing services, our design team are here to offer creative design for your project or business. Our designers will happily work with you to create a design you can be proud of, from the simple layout to a more complex project.
No job too large or too small
From a one-off, short run job to regular printing of complex, long-term projects, we are here to help with whatever you require.
Customer Service First
From our humble beginnings in the days of dark rooms and typesetters, to the electronic designing and printing we use today, we believe our continued success is because we always put our customers' needs first. Our first priority is to provide friendly and helpful customer service whilst working with you and in case of any questions or queries when the job is completed. We know your printing work is important to you, so it is important to us too. This is the secret of our forty-five-year success and our reason for coming to work in the morning! If you're looking for printing services in Lincolnshire and beyond you need look no further – please get in touch today to discuss your upcoming projects, we would love to hear from you!
Testimonials
Lincolnshire House would like to thank Scunthorpe Instant Print for all the work undertaken for us at this difficult time. We have found them to be very helpful and give first class service both in the products and fast delivery of special printing that we have requested.
Lisa Samza,

Lincolnshire House
"The Bacchus Hotel have been a customer of Instant Print for over 15 years. The staff are very efficient, experienced and inspirational in producing any work I request, with a quick turn around. All staff are very friendly, helpful and approachable."
Jane,

Bacchus Hotel
We have been using Instant Print for many years. They produce all of our business printing needs efficiently and to an excellent standard. They create and set up layouts for us making our often vague ideas a reality! Their quality is always outstanding with the pricing very competitive, that's why they have been "our printer" for years! The staff at Instant Print are very knowledgeable and their customer service is remarkable.
Glen,

The George, Kirton in Lindsey
I have been using Scunthorpe Instant Printing Services for 16 years now for all my printing & stationary needs and have always found their service to be of a high quality with a fast reliable delivery all at a competitive price and always with a smile. Would definitely recommend them without hesitation to all types of business, large or small.
Mr James Mumby (Proprietor),

JEM Management Services
Scunthorpe Instant Print has been supporting my business since I launched it 15 years ago. I'm always greeted with cheerfulness and a willingness to realise my print ambitions (and I'm happy to admit that I come up with crazy notions sometimes). Pricing is competitive, and turnaround is fast. They're great people to deal with. Scunthorpe Instant Print lives up to its name!'
Stuart ,

Words & Spaces